Gluten free coconut cake 240g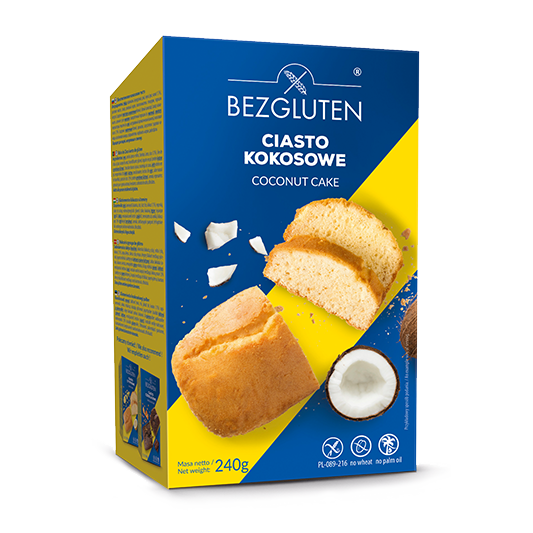 NEW!!!
Ingredients: eggs, starches (corn, rice), flours (rice, coconut 1,1%), rapeseed oil, sugar, rice syrup, humectant: glicerol; yogurt powder (contains lactose and milk proteins), white chocolate (contains lactose and milk, soy), coconut paste 1,9% (contains milk proteins), aromas, thickeners: guar gum, xanthan gum; raising agents: sodium carbonates, diphosphates.
Suitable for people intolerant to gluten.
Nutritional value per 100g of product:
Energy value per 100g of product: 1712 kJ / 409 kcal
Fat: 20 g
of which saturates: 2,4 g
Carbohydrate : 52 g
of which sugars: 17 g
Fibre: 1,4 g
Protein: 4,5 g
Salt: 0,35 g
Net weight: 240 g
Expiry date: 2 months
Store in a dry, cool place
Packed in modified atmosphere.
SEND to your friend