Gluten free lemon cake 300g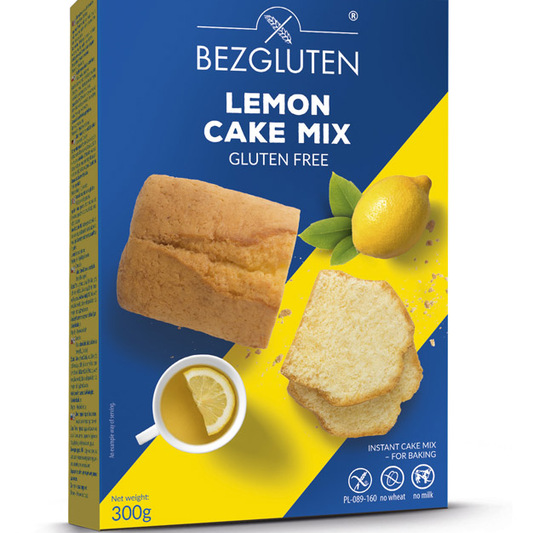 Instant cake mix
For baking
Ingredients: corn starch, corn flour, rice starch, natural aroma, inulin, scarifiers (sodium carbinate, difosforanium)
Suitable for people intolerant to gluten.
Nutritional value per 100g of product:
Energy value per 100g of product: 1982 kJ / 475 kcal
Fat:  29 g
of which saturates: 0,8 g
Carbohydrates:  50 g
of which sugars:  16 g 
Fibre: 1,5 g
Protein: 2,8 g
Salt: 0,82 g
Net weight: 300 g
Shelf life: 10 m-cy
Keep in dry and cool space.
To prepare the cake you need the following ingredients:
- 3 eggs
- 180ml of oil or 170g of dissolved butter
- 50ml of water
- 110g of sugar
Execution:
1. Mix egg whites to get stiff foam.
2. In a separate bowl mix egg yolks with sugar adding oil, water and mix to get mass.
3. Add the stiff foam to the mass.
4. Pour the mass to the 25 x 11 cm form filled with baking paper.
5. Place the form into the oven having the temperature of 170°C, bake (without air flow) for 55 minutes, and take it out of the form. Sprinkle cool cake with sugar powder or decorate with topping make of lemon juice: 1lemon and 90 g of sugar powder. Keep under the cover.
Muffins: prepared cake split into 15 parts, bake for 26 min in temperature 170°C.
SEND to your friend