Low protein short cake mix PKU 500g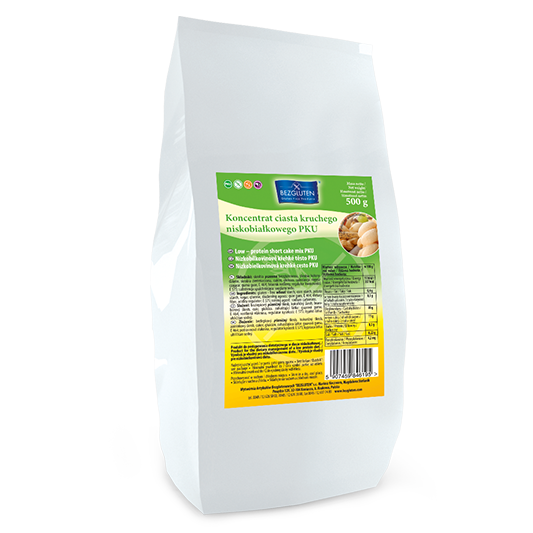 Ingredients: gluten free wheat starch, corn starch, potato starch, sugar, glucose, thickeners: guar gum, E 464; patato fibre, acidity regulator: E 575; raising agents: sodium carbonate.
Nutritional value per 100 g of product:
Energy value per 100 g of product: 1516 kJ / 357 kcal
Fat: 0,4 g
of which saturated: 0,1 g
Carbohydrate: 88 g
of which sugars: 11 g
Protein: 0,3 g
of which phenylalanine: 4,2 mg
Salt: 0,22 g


Net weight: 500 g
Expiry date: 12 months
Preparation method
Low protein shortcrust bases PKU
Ingredients:
• 300 g of concentrate,
• 1 egg,
• 100 g of margarine,
• 1 teaspoon of baking powder,
• optionally 20 g of sugar to taste
How to prepare: Pound margarine with icing sugar, add 300 g of concentrate, 1 egg and baking powder
– mix all ingredients. Grease the form of fat before baking. Bake for 40-50 minutes for about 220°C. Can be used for cookies, bases for poppy-seed cakes, cheese cakes etc.
SEND to your friend