Gluten free bread with pumpkin seeds and cranberries 200g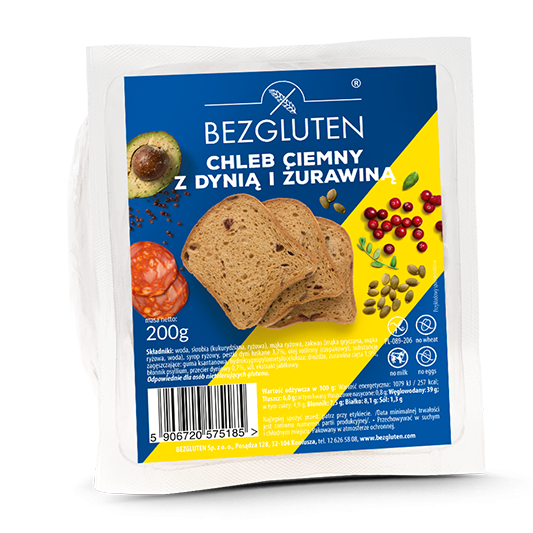 NEW!
SUPERFOODS!
Ingredients: water, starch (corn, rice), rice flour, sourdough (rice flour, buckwheat flour, water), rice syrup, pumpkin seeds 3,7%, rapeseed oil, thickeners: xanthan gum, hydroxypropyl methyl cellulose; yeast, cranberries diced 1,9%, fiber Psyllium, pumpkin puree 0,7%, salt, apple extract.
Suitable for people intolerant to gluten.
Nutritional value per 100 g of product:
Energy value in 100 g of product: 1079 kJ/ 257 kcal
Fat: 6,0 g
of which saturates: 0,8 g
Carbohydrate: 39 g
of which sugars: 4,9 g
Fibre: 7,5 g
Protein: 8,1 g
Salt: 1,3 g
Net weight: 200 g
Store in dry and cool place
Packed in modified atmosphere.
SEND to your friend