Gluten free RiceVita strawberry-banan 50g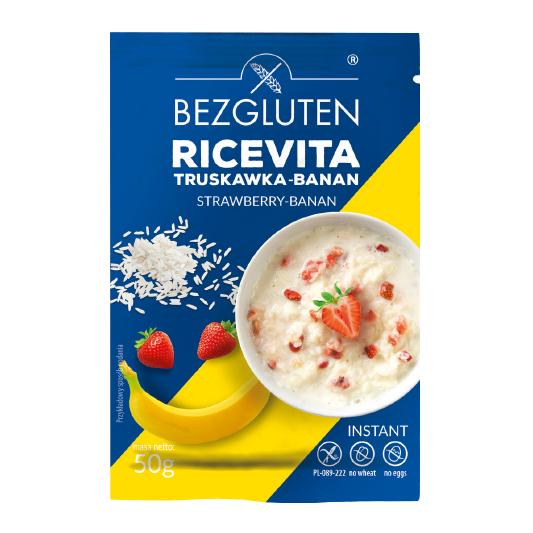 Gluten free rice flakes strawberry and banana.
Ingredients: rice flakes 73%, powdered yogurt (contains lactose and milk proteins), powdered sugar, tapioca starch, lyophilized strawberry 2%, lyophilized  banana  1%, natural aroma (contains lactose).
Suitable for people intolerant to gluten.
Nutritional value per 100 g of product:
Energy value per 100 g of product: 1494 kJ /352 kcal
Fat: 0,5 g
of which saturates: 0,0 g
Carbohydrate: 79 g
of which sugars: 17 g
Protein: 7,8 g
Salt: 0,04 g
Net weight: 50 g
Expiry date: 8 months
Storage: cool and dry.
Pour content of the bag into the cup and add 100 ml of boiling water or milk (1 cm above flakes) and mix thoroughly. Product is ready-to-eat in 5 minutes. (recommended covering the cup).
SEND to your friend