Gluten free banana cake 300g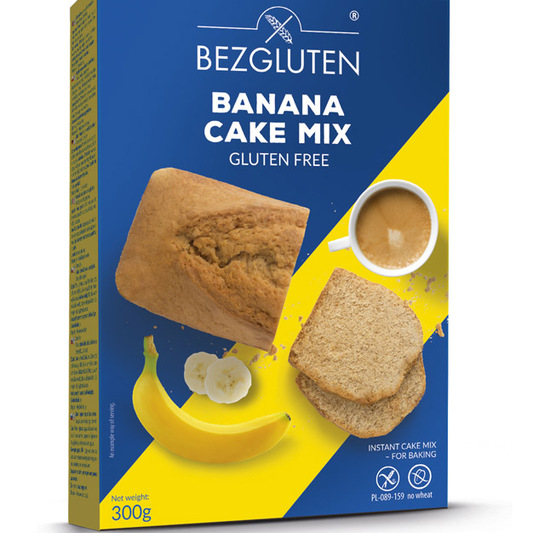 UPGRADED FORMULA!!
Instant cake mix
For baking
Ingredients: corn starch, corn flour, rice starch, inulin, raising agents: sodium carbonate, diphosphate; aroma.
One pack of instant contain: 300 g cake mix.
Suitable for people intolerant to gluten.
Nutritional value per 100 g of product (after preparing):
Energy value per 100 g of product: 1577 kJ /376kcal
Fat: 18 g
of which saturates: 1,5 g
Carbohydrate : 51 g
of which sugar: 22 g
Protein: 2,6 g
Salt: 0,28g
Prepare:
200 g ripe bananas (ca. 2 medium-sized bananas)
120 g sugar
2 eggs
150 ml oil
Directions:
1. Cream diced bananas with sugar.
2. Still mixing with the highest speed, add separately the eggs, oil and the mixture, then mix for another 2 minutes.
3. Pour the dough into a 25 x 11 cm bread pan covered with parchment paper.
4. Put the mould in the oven heated up to 170°C, bake (without thermaflow) for ca. 55 minutes, then take the cake out of the mould. When cooled, sprinkle the cake with powdered sugar. Optionally, you can add 1 teaspoon of cinnamon to the dough.
Muffins: divide the dough into 15 muffin cups.
Net weight: 300 g
Expiry date: 10 months
SEND to your friend