Gluten free chocolate cake 290g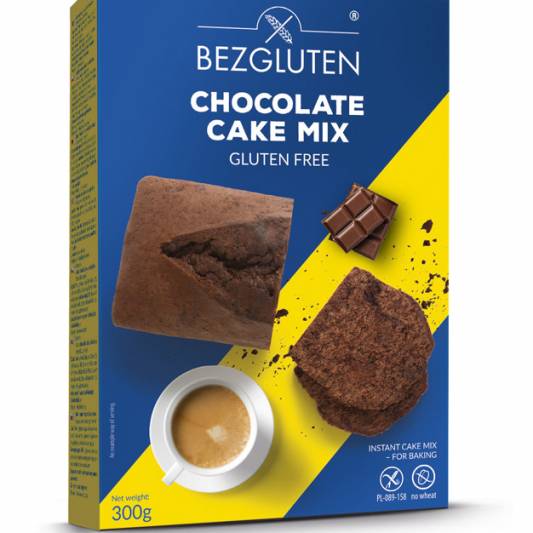 IMPROVED FORMULA!!
Instant cake mix
For baking
Ingredients: Powdered dough: corn starch, cocoa, rice starch, inulin, raising agents: sodium carbonate, diphosphate; potato starch, aroma. Chocolate drop (10%) : sugar, cocoa mass, cocoa butter, low fat cocoa, emulsifiers: soy lecithin; vanilla flavor.

270 g mix + 30 g chocolate drop
Specifically formulated for people intolerant to gluten
Nutritional value per 100 g of product:
Energy value in 100 g of product: 1559 kJ /368 kcal
Fat: 4,0 g
of which saturates: 2,5 g
Carbohydrate: 80 g
of which sugar: 4,3 g
Fibre: 1,1 g
Protein: 2,5 g
Salt: 0,65 g
Prepare:
3 eggs
110 g of sugar
180 ml of oil or 170 g of dissolved butter
50 ml of water
Preparation method:
1. Place all the ingredients in a bowl and mix by  the mixer at the highest speed for about 2 minutes until smooth, then pour chocolate drops and mix by a spoon.
2. Put the mass to the 25 x 11 cm mold array with baking paper and level the surface.
3. Place the mold in the oven heated to 170 ° C, bake (without hot air) for about 55 minutes, then remove from the mold and cool. Keep under cover.
Alternatively with drops, you can sprinkle the cake when poured into the mold.
Net weight: 300 g
Expiry date: 12 months
SEND to your friend