Gluten free cupcakes 250g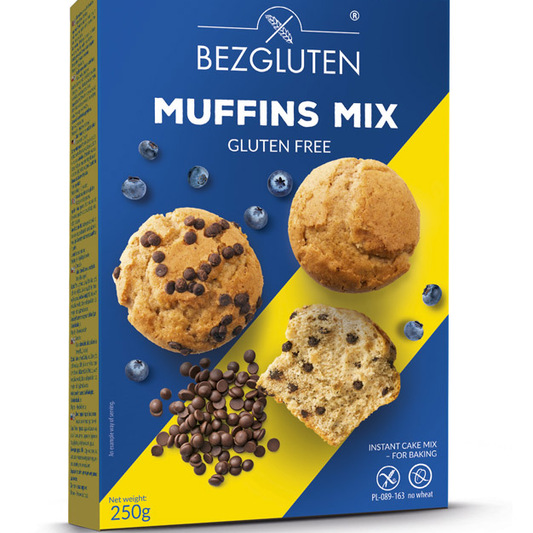 Instant cake mix
For baking
Ingredients: instant cake mix: corn starch, buckwheat flour, glucose, thickeners: guar gum, hydroxypropyl methyl cellulose; potato fibre, gluten-free baking powder /raising agents: diphosphates, sodium carbonate; corn starch, potato starch/, cloves, acidity regulator: glucono-delta-lactone; raising agent: sodium carbonate. Chocolate chips (25 g): cocoa liquor, sugar, fat- reduced
cocoa powder, cocoa butter, emulsifiers: lecithin (soy).
One packet of instant contains:
250 g cake mix, 16 cake cases, 25 g chocolate chips
(Chocolate chips: May contain milk).
Suitable for people intolerant to gluten.
Nutritional value per 100 g of product (after preparing):
Energy value per 100 g of product: 2015 kJ /482 kcal
Fat: 27 g
of which saturates: 4,2 g
Carbohydrate: 52 g
of which sugar: 7,8 g
Fibre: 3,7 g
Protein: 6,0 g
Salt: 1,2 g
You will need:
For the cake:
5 eggs, 105 g vegetable oil, 100 g sugar
Preparation:
1. Preheat the oven to 180 C/Gas Mark 4. Arrange the cake cases on a baking sheet.
2. Beat the egg whites with a pinch of salt until sti  . Whisk the egg yolks and sugar, then gently fold in the oil, the cake mix and the egg whites. Keep folding until the ingredients are thoroughly blended.
3. Chocolate chips or chopped fruit, such as blueberries, for instance, can also be added to the mixture as desired. Divide the mixture equally between the cake cases, filling each one to halfway.
4. Bake for around 15-20 minutes. Bon appétit!
Net weight: 250 g
Expiry date: 12 months
SEND to your friend