Gluten free puff pastry cake with cream 500g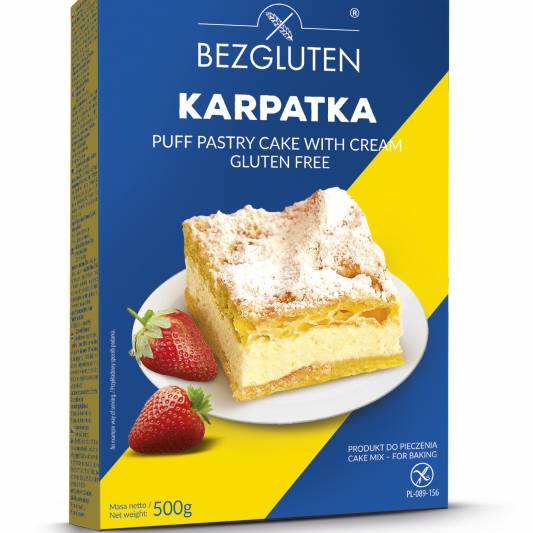 Instant cake mix
For baking
Ingredients: Cream (59%): sugar, corn starch, potato starch. Cake mix (41%): corn starch, gluten free wheat starch, gluten free baking powder (raising agents: diphosphates, sodium carbonate; corn starch, potato starch), sugar, thickeners: guar gum; emulsifiers: lecithin, mono- and diglycerides of fatty acids, pectin; dietary fibre (apple, potato), acidity regulator: E 575.
Suitable for people intolerant to gluten.
Nutritional value per 100 g of product (after preparing):
Energy value per 100 g of product: 1555 kJ /373 kcal
Fat: 25 g
of which saturates: 3,0 g
Carbohydrate : 33 g
of which sugar: 18 g
Fibre: 1,8 g
Protein: 3,2g
Salt: 0,38 g
You will need:
For the lling:
125 g margarine
200 g butter
500 ml milk
1 tsp lemon juice
Icing sugar to decorate.
For the cake:
125 g margarine
5 eggs
Method:
Cake:
1. Oil a baking sheet or cover it with greaseproof paper. Add the maragarine to 300 ml of water and bring to the boil. Add the contents of the cake mix pack and cook thoroughly. Cool.
2. Add the eggs, to the cold mixture one at a time and mix for approx. 5 minutes.
3. Divide the dough into two equal parts. Spread each of them thinly on a 25 x 30 cm baking sheet.
4. Place in a hot oven (2200C) and bake for approx. 30 minutes, or until the dough is golden.
5. After the cake has cooled, sandwich the layers with the filling and sprinkle the top with icing sugar.
Filling:
1. Dissolve the filling mix in 250 ml of the milk. Heat the remaining milk.
2. As the milk is heating, add the filling mixture. Continue to heat for a few minutes, stirring well to eliminate any lumps.
3. Once the mixture has cooled, mix in the softened butter and margarine. Add the lemon juice and mix again.
Net weight:500 g
Expiry date: 10 months
SEND to your friend