Low protein lemon cake lemon flavoured PKU 300g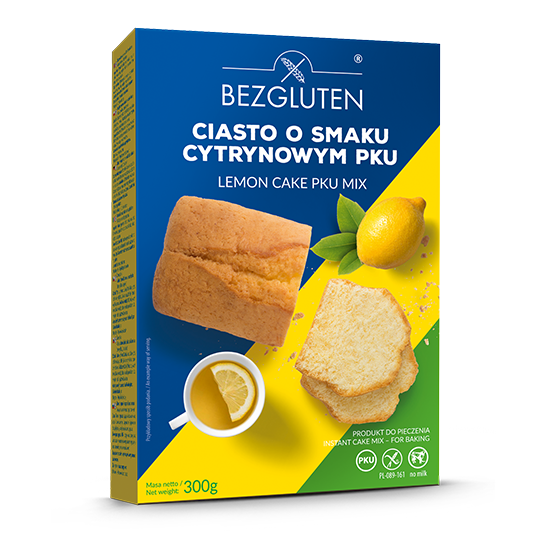 Instant cake mix
For baking
Ingredients: gluten free wheat starch, glucose, corn starch, thickeners: guar gum, E 464; dietary potato, gluten free baking powder /raising agents: diphosphates, sodium carbonate; corn starch, potato starch/, natural flavor: lemon (2%); acidity regulator: E 575; raising agent: sodium carbonate.
Nutritional value per 100 g of product (after preparing):
Energy value per 100 g of product: 1850 kJ / 443 kcal
Fat: 25 g
of which saturates: 0,6 g
Carbohydrate : 51 g
of which sugar: 23 g
Fibre: 2,8 g
Protein: 1,5 g
of which phenylalanine: 62 mg
Salt: 0,52 g
You will need:
Product for self-preparation.
For the cake:
• 4 yolk eggs
• 210 g vegetable oil
• 100 ml mineral water
• 175 g sugar
Preparation:
Preheat the oven to 180 C/Gas Mark 4. Prepare an 11 x 34 cm loaf tin. Whisk the egg yolks with sugar until light and fluffy, then gently fold in the oil, the water and the cake mix. Pour the and bake for around 35-40 minutes. Bon appétit!
Net weight: 300 g
Expiry date: 12 months
SEND to your friend