7 Grains Gluten Free Mix, 250g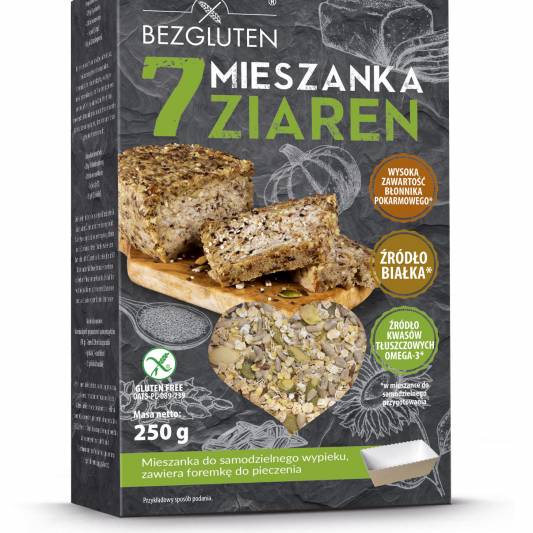 Gluten free baking mix for gluten free bread
Ingredients: seeds 54% (sunflower seeds, pumpkin seeds, flax seed, chia seeds, expanded amaranth), flakes 43,6 % (oat, millet), inulin, fibre Psyllium.
Suitable for people with gluten intolerance.
Nutrition value per 100g:
Energy value: 2791 kJ; 482 kcal
Fat: 30 g
of which saturates: 3,4 g
Carbohydrates: 26 g
of which sugars: 4,0 g
Fibre: 20 g
Protein:  15 g
Salt: 0,013 g
Bread recipe
Ingredients:
250 g 7 Grains Gluten Free Mix
250 ml water
½ teaspoon salt
2 tablespoons oil
Instructions:
Place all the ingredients in a bowl and mix until combined and thick. Scoop the dough into the pan. Press it level, using a spatula or your wet fingers. Leave for one hour . Preheat the oven to 190°C and bake the bread for 60 minutes.
Remove the bread from the pan and put it in the oven for 10 minutes.,
Cool the bread for minimum 6 hours before you slice it.
Net weight: 250 g
Expiry date:10 months
Store in dry and cool place.
SEND to your friend