Burger Mix Gluten free, 150g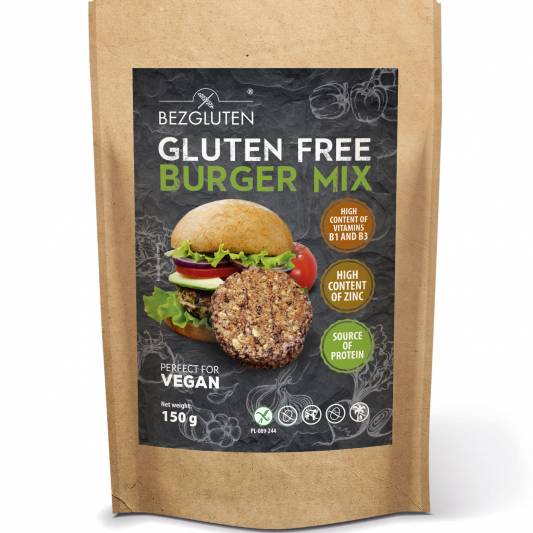 Vegetable gluten-free meat substitute - vegan product in powder (for self-preparation)
Thiamine (vitamin B1) helps with the proper functioning of the nervous system and heart.
Niacin (Vit. B3) contributes to the reduction of fatigue and weariness.
High protein content.
High content of vitamins B1, B3 and zinc.
Ingredients: soya protein isolate, flakes (amaranth, quinoa), pea flour, yeast flakes inactive, inulin, Himalayan non iodised salt, ground black pepper, dried parsley, ground onion, ground garlic, rubbed off marjoram, beetroot juice powder, Locust bean seed powder.
Suitable for people with gluten intolerance
Nutrition value per 100g:
Energy value: 1015 kJ/ 243 kcal
Fat: 14 g
of which saturates: 1,0 g
Carbohydrates: 8,0 g
of which sugars: 0,09 g
Fibre: 0,5 g
Protein: 21 g
Salt: 1,54 g
Vitamins and minerals:
Thiamin: 0,433 mg (39% RWS)
Niacin: 4,92 mg (31% RWS)
Zinc:25,8 mg (258% RWS)
*Reference  intake  of  an  average  adult  (8  400  kJ/  2 000 kcal)
Preparation: Pour 150 g of the mixture into a bowl and pour 350 ml of warm water (40°C). Mix thoroughly using a spoon or mixer. Wait about 3 minutes. Form flat chops (50 g each), coat in breadcrumbs (without wheat starch) and fry in a hot pan with vegetable oil using low heat for approximately 4 minutes on each side. A portion of the product is two chops (100 g). The package contains 5 portions, suggested portion is two chops (100g).
Net weight:150 g
Expiry date:10 months
Store in dry and cool place.
SEND to your friend