Gluten free bread dough concentrate 500g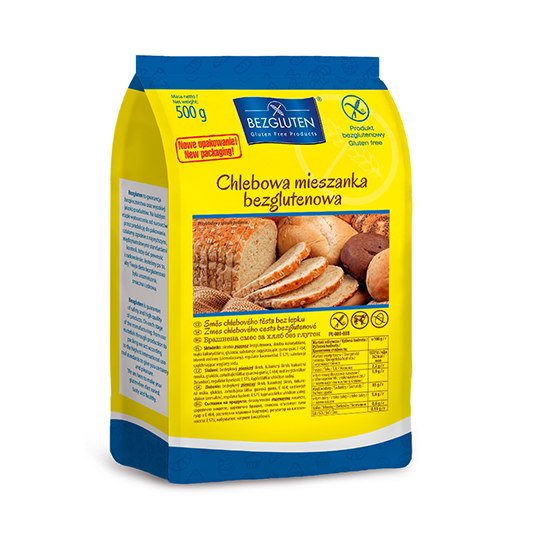 Ingredients: gluten free wheat starch, corn starch, corn flour, glucose, thickeners: guar gum, E464; patato fiber, acidity regulator: E575; raising agent: sodium carbonate.


Suitable for people intolerant to gluten.
Nutritional value per 100 g of product:
Energy value in 100 g of product:1537 kJ/ 362 kcal
Fat: 2,2 g
of which saturates: 1,9 g
Carbohydrate: 85 g
of which sugars: 5,6 g
Protein: 0,6 g
Salt: 0,11 g
Net weight: 500 g
Store in dry and cool place
Expiry date: 12 months
This product is intended to be prepared at home.
Cooking instructions:
• 500 g Gluten-free bread dough concentrate
• 0,5 teaspoon of salt (5 g)
• 0,5 teaspoon of sugar (8 g)
• 7 g of powdered yeast
• 500 ml of warm water
• 3 tablespoons of oil
Pour the content of the packet into a dish, add salt, mix. Add the sugar, yeast, water (water temperature around 26 °C) and oil. Using a spoon, mix all ingredients thoroughly into a uniform paste. Transfer the batter into a baking mould, cover with a cloth and let stand for 30 minutes at room temperature (around 20 °C). When the batter doubles its volume, smear oil on the topmost surface of the bread and put the mould into a pre-heated oven. Bake at 180 C for 40-45 minutes. Do not open the oven whilst baking. When the bread is ready, remove from the mould and leave to cool down.Suggested mould size 27 cm x 12 cm.The use of a fan assisted oven is not recommended.
SEND to your friend