Gluten free extra universal flour concentrate 1000 g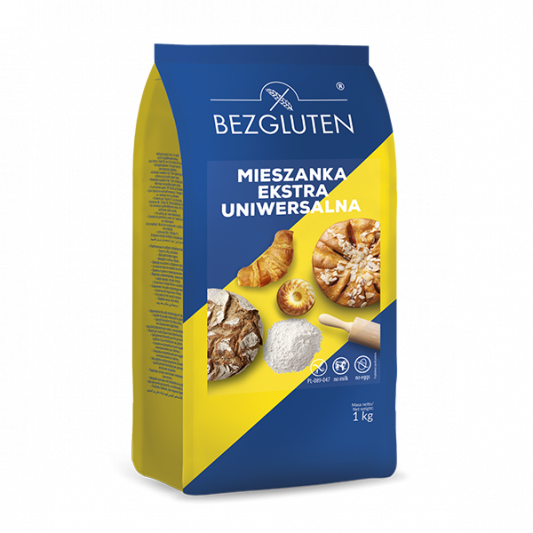 Ingredients: gluten free wheat starch, corn starch, corn flour, glucose, thickeners: guar gum, E 464; fibre patato, acidity regulator: E 575; raising agent: sodium carbonate.
Suitable for people intolerant to gluten.
Nutritional value per 100 g of product:
Energy value per 100 g of product: 1554 kJ / 366 kcal
Fat: 2,2 g
of which saturated: 1,9 g
Carbohydrate: 86 g
of which sugars: 5,9 g
Protein: 0,6 g
Salt: 0,13 g
Ingredients:
• 1000 g Extra universal mix Bezgluten
• 1 teaspoon of salt (9 g)
• 1 teaspoon of sugar (7g)
• 7 g of yeast in powder or 25 g crushed fresh yeast
• 450 ml of water (temp. about. 30°C)
• 3 spoons of oil (20 g) + oil to grase
Preparation method:
All the ingredients, place in a bowl and blend at high speed for about 2 minutes until smooth mass. Pour the mass into greased molds with oil 30 x 12 cm and level the surface with a damp spoon. Cover with a damp cloth and leave to rise at room temp. For about 45 minutes. After this time, brush lightly with oil and place in preheated oven to 180 ° C. Bake about 45 minutes (without convection), then remove from molds and allow to cool.
Net weight: 1000 g
Expiry date: 12 months
SEND to your friend