Gluten free garmaż Mix - our for delicatessen products 400g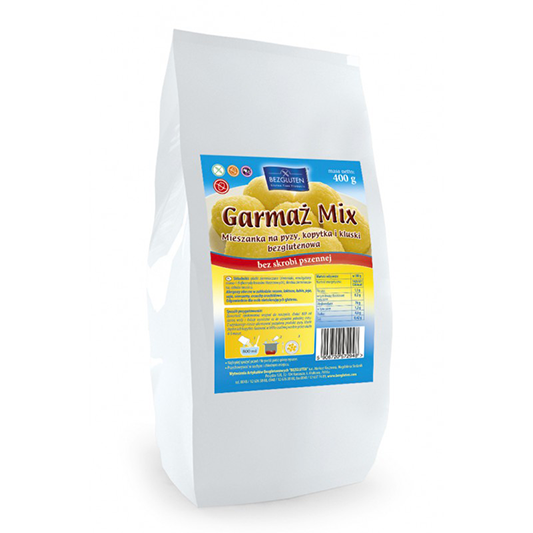 Ingredients: potato flakes, potato starch, dried onion.
 Suitable for people intolerant to gluten.
Nutritional value per 100 g of product:
Energy value per 100 g of product:1453 kJ/ 342 kcal
Tłuszcz:  1,5 g
w tym kwasy tłuszczowe nasycone:  0,2 g
Węglowodany:  76 g
w tym cukry: 1,2 g
Białko: 4,6 g
Sól: 0,42  g
Masa netto: 400 g
Okres przydatności do spożycia: 12 m-cy
Przechowywać w suchym i chłodnym miejscu.
Sposób przyrządzenia:
Zawartość opakowania wsypać do naczynia, dodać 800 ml zimnej wody i dobrze wymieszać aż do uzyskania jednolitej masy. Z uzyskanego ciasta uformować pożądany produkt: pyzy, kluski śląskie lub kopytka. Gotować w lekko osolonej wodzie przez około 4-5 minut.
SEND to your friend