Gluten free pancake-dumpling mix 500g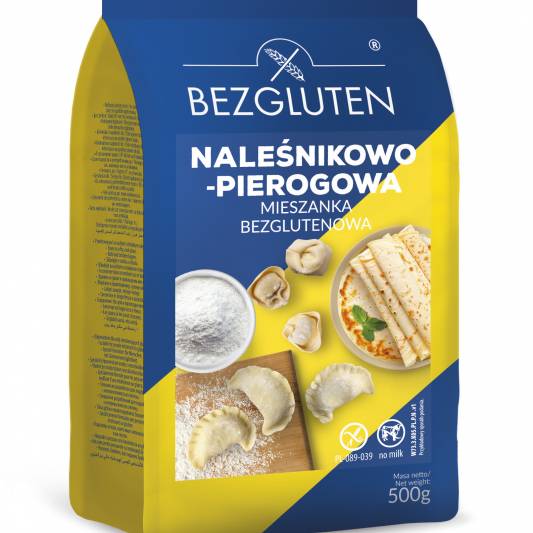 Ingredients: corn starch, potato starch, rice flour, gluten free wheat starch, glucose, thickeners: guar gum, hydroxypropyl methyl cellulose; potato fibre, acidity regulator: glucono delta-lactone; raising agent: sodium carbonate.
Suitable for people intolerant to gluten.
Nutritional value per 100 g of product:
Energy value per 100 g of product: 1509 kJ/ 356 kcal
Fat: 0,6 g
of which saturates: 0,3 g
Carbohydrate : 82 g
of which sugar: 5,9 g
Protein: 2,1 g
Salt: 1,3 g
Net weight: 500 g 
Expiry date: 12 months
PANCAKES WITH NUTELLA  
Ingredients:
Cake:
•200 g flour (dough pancake-pasta- gluten-free)-K05
•2 egg
•250 ml of milk
•250 ml of water
•pinch of salt
•50 ml of soybean oil
•Oil for Flying
•Nutella
Preparation metod:
Pour flour into a bowl, salt, pour in the water, oil and milk, drive it all the eggs and mix until dough is smooth and will have a density of sweet cream. Pour batter on the hot, thin clearing oil, frying pan and fry thin pancakes. Smear nutella crepes and roll into rolls. The dough at first, is rare, but during the mixing and waiting thickens.  
SEND to your friend