Low protein bread dough concentrate PKU 500g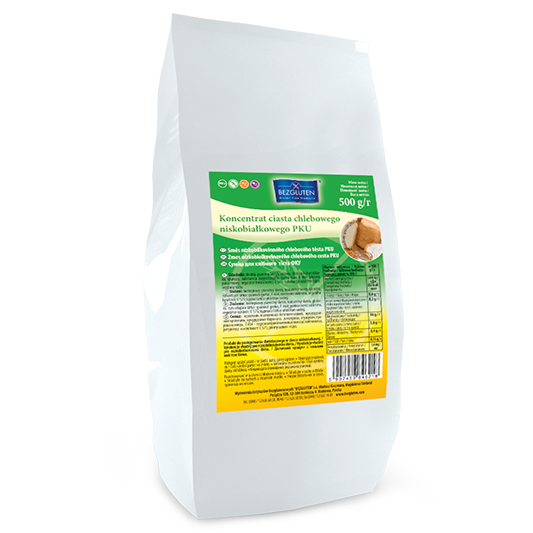 Ingredients: gluten free wheat starch, corn starch, glucose, thickeners: guar gum, hydroxypropyl methyl cellulose; patato fibre, acidity regulator: glucono delta lactone; raising agents :sodium carbonate.
Nutritional value per 100 g of product:
Energy value per 100 g of product:1495 kJ/ 352 kcal
Fat: 0,6 g
of which saturates: 0,2 g
Carbohydrate: 86 g
of which sugars: 5,8 g
Protein: 0,4 g
of which phenylalanine: 3,4 mg
Salt: 0,13 g
Net weight: 500 g
Store in dry and cool place
Expiry date: 12 months
Preparation / bread dough PKU/ in Panasonic oven
Ingredients: vegetable oil 35 g (2 tablespoonfuls),
water (26°C) 400-450 ml,
500g BREAD  DOUGH CONCENTRATE PKU ,
sugar approx. 20g (1 large measure),
salt approx. 5g (1 small measure),
instant yeast approx. 7g (sachet).

Preparing dough for baking: put the ingredients into a baking mould in the described sequence. Do not sprinkle yeast over salt or salt over yeast. Yeast and sugar should be put on top of flour so that the ingredients do not have any contact with liquids. The ingredients should be at room temperature, and the liquids should be a little warmer, yet not more than approx. 36°C. Well mixed dough should have the consistency of thick  whipped cream.

Baking: dough is baked by setting the "gluten-free" programme and the
colour of browning at "dark".


SEND to your friend