Low protein cherry flavour jelly powder PKU 80g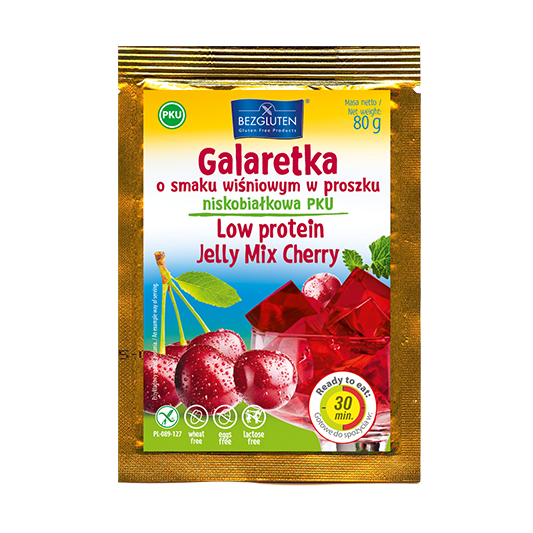 Ingredients: Sugar, gelling agent: carrageenan; stabilisers: potassium citrates; acidity regulator; malic acid; flavouring; colouring: anthocyans; cherry powder concentrate.
Nutritional value per 100 g of product:
Energy value in 100 g of product: 1513 kJ/ 356 kcal
Fat: 0 g
of which saturates: 0 g
Carbohydrate: 88 g
of which sugar: 87 g
Protein: 0 g
of which phenylalanine: 2 mg
Salt: 0 g
Net weight: 80 g
Expiry date: 12 months
Cooking instructions:
pour the content of the packet into 500 ml of boiled, hot water, mix thoroughly until the powder is fully dissolved; pour the jelly into bowls (about 100 g each) and let stand for ½ an hour at room temperature
until the jelly sets. May be put into a fridge for ½ an hour to cool.
SEND to your friend