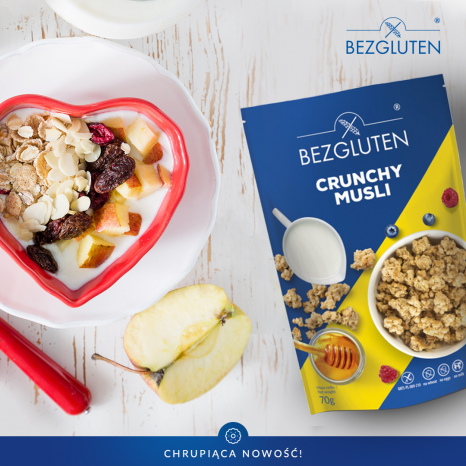 Nutritious, tasty, fast and mixed gluten free breakfast.Try out the NEW Crunchy Granola! We have lots of cereals in our e-shop but this one is special. For those who want fast and tasty gluten-free breakfast we also prepared Granola with honey.
Breakfast is the most important dish of the day and it's important when it gives the energy for the beginning of the day. There is nothing better that waking up with the idea for fast, tasty and nutritious gluten-free dish. Depending on your preferences ourgluten-free Crunchy Granola taste perfectly well with milk, yogurt or your favourite fruits.
We deliver our customers best quality in every product. To deliver best quality we avoid using unnecessary ingredients and upgrade our recipes all the time. We followed this path in case of Crunchy Granola, that unlike other cereals on the market does not contain palm oil. This is crucial because lots of food experts are opposed to palm oil.
We invite you to shop!

SEE IN E-SHOP