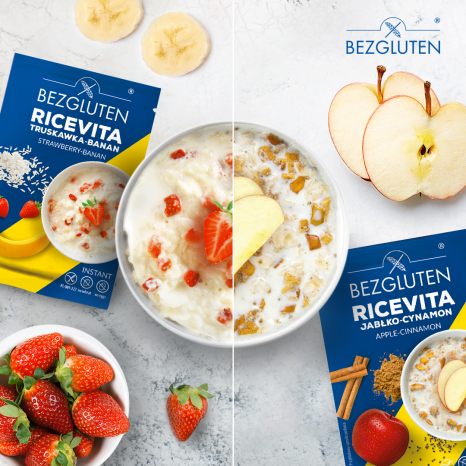 New member of our gluten-free breakfast family! We are proud to introduce rice cereals RiceVita with dried fruits. Perfect idea for light and nutritious meal in the middle of the day. Available in two fruit options.
RiceVita apple-cinnamon is the type of rice cereals with no lactose. Dried fruits are well known for their positive impact when we lack energy. Dried apples contain lots of antioxidants that prevent cancer and large amount of C vitamin will improve your resistance. Cinnamon is reputable for metabolism acceleration.
RiceVita banana-strawberry this is perfect combination of healthy rice cereals, dried bananas and strawberries. Can dried banana be better than fresh? Of course! In every 100g it contains twice as much such ingredients as:
potassium 1491 mg
magnesium 108 mg
phosphorus 74 mg
calcium 22 mg
vitamin A 248 IU
Fill in the cup with the content of the pack, pour boiling water or milk, mix and wait couple of minutes to enjoy perfect taste. You only have to choose your favourite one.
We invite you to shop!

SEE IN E-SHOP