Gluten free Raspberry choco– sponge cakes with raspberry flavoured jelly in chocolate 150g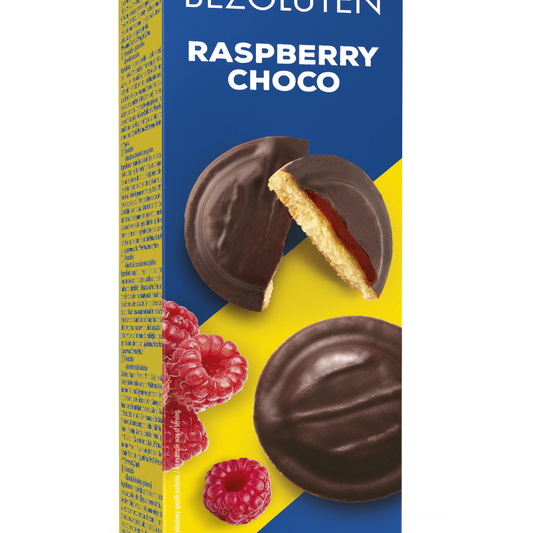 Ingredients: Sponge cake 43%: pasteurized egg mass,  corn flour, sugar, potato starch, soy flour, maltodextrin, glucose-fructose syrup, raising agents: ammonium carbonates, diphosphates, sodium carbonates; salt, rapeseed oil; Jelly 42% : sugar, glucose-fructose syrup, water, humectant: glycerol; acidity regulators: citric acid, sodium citrate; gelling agent: pectins; concentrated raspberry juice (0,8% - in jelly), concentrated apple juice, black carrot juice concentrate, flavor ; Chocolate 15%: sugar, cocoa mass, cocoa butter, emulsifiers: lecithins, polyglycerol polyricinoleate; flavor.
May contain nuts, milk (including lactose).
Suitable for people intolerant to gluten.
Nutritional value per 100 g of product:
Energy value per 100 g of product: 1512 kJ/ 358 kcal
Fat: 7,2 g
of which saturates: 3,3 g
Carbohydrate: 69 g
of which sugars: 44 g
Fibre: 2,2 g
Protein: 4,7g
Salt: 0,53 g
Net weight: 150 g
Expiry date: 6 months
SEND to your friend