Gluten free toffee sandwich biscuits 200g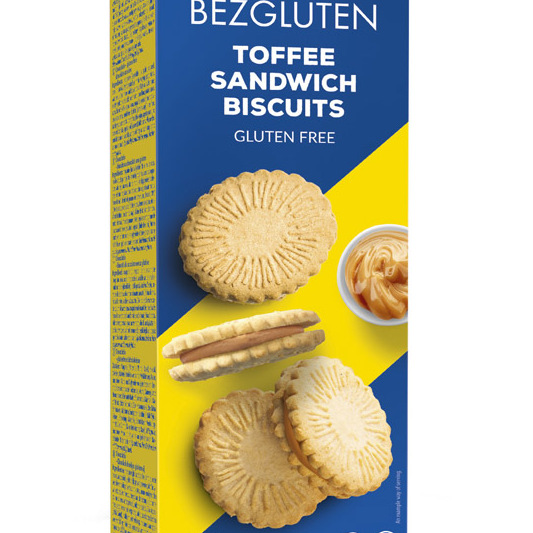 Ingredients: Biscuit  (67%): corn  starch, margarine (vegetable oils/palm, rapseed, coconut, partially  hydrogenated  palm/ in varying  proportions, water, emulsifiers: mono- and diglycerides of fatty acids, lecithine; acidity regulator: citric acid; dye: annatto), rice flour, potato starch, sugar, starch syrup, corn flour, dextrose, potato fibre, thickeners: guar gum; emulsifier: mono- and diglycerides fatty acids; rapseed oil, egg  yolk, raising  agents:  ammonium carbonate, sodium  carbonate; salt, acidity regulator: E 575, tartaric acid. Toffee  filling  (33%): sugar, partially hydrogenated fat palm, whey powder (milk based), whole milk powder, soya flour powder, low-fat cocoa powder, flavourings, emulsifier: lecithin (contains soy); dye: carotenes.
 Suitable for people intolerant to gluten.
Nutritional value per 100 g of product:
Energy value per 100 g of product: 2186 kJ/ 522 kcal
Fat: 25 g
of which saturates: 11 g
Carbohydrate: 71 g
of which sugars: 28 g
Fibre: 1,8 g
Protein: 2,3 g
Salt: 0,325 g
Net weight: 200 g
Expiry date: 12 months
SEND to your friend