Guten free Oatcake with cranberries 85g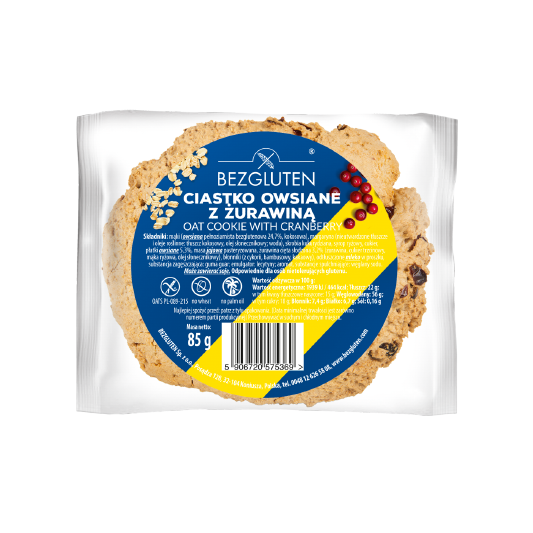 NEW!!!
Ingredients: flours (whole grain oat flour gluten free 24,7%, coconut flour), margarine (non-hydrogenated fats and vegetable oils: coconut fat, sunflower oil; water), corn starch, rice syrup, sugar, rolled oats 5,3%, pasteurized egg mass, cut sweetened cranberry 3,2% (cranberry, cane sugar, rice flour, sunflower oil), fibres (chicory fibre, bamboo fibre, cocoa fibre), skimmed milk powder, thickeners: guar gum; emulsifier: lecithin; aroma, raising agents: sodium carbonates.
 It may contain soya.
Suitable for people intolerant to gluten.
Nutritional value per 100 g of product:
Energy value in 100 g of product: 1939 kJ/ 464 kcal
Fat: 22 g
of which saturated: 15 g
Carbohydare: 56 g
of which sugars: 18 g
Fibre: 7,4 g
Protein: 6,7 g
Salt: 0,16 g
Net weight: 85g
Shelf life: 6 months
Storage: cool and dry
SEND to your friend