Low protein Ciabatta rolls PKU 210g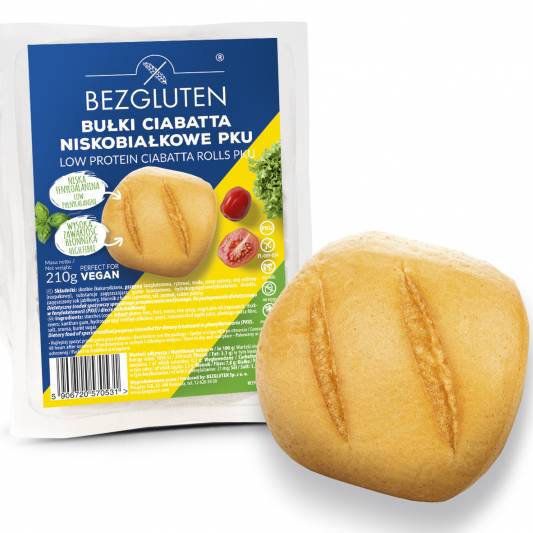 NEW UPGRADED FORMULA !!!
3 pcs.
Ingredients: starches (corn, wheat gluten free, rice), water, rice syrup, rapeseed oil, thickeners: xanthan gum, hydroxypropyl methyl cellulose; yeast, concentrated apple juice, vegetable fibre "Psyllium", salt, aroma, burnt sugar.
Nutritional value per 100 g of product:
Energy value in 100 g of product: 1056 kJ / 250 kcal
Fat: 3,1 g
of which saturates:0,3 g
Carbohydrate: 51 g
of which sugars:3,5 g
Fibre: 7,8 g
Protein: 0,7 g
of which:
phenylalanine: 21 mg
tyrosine: 14 mg
leucin: 35 mg
Salt:1,28 g
Net weight: 210 g
Shelf life: 3 months
Product packed in protective atmosphere.
Storage: cool and dry
SEND to your friend