Low protein egg substitute PKU 200g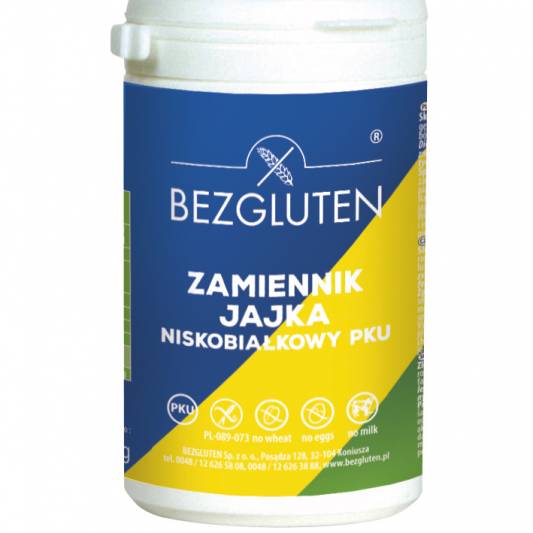 Ingredients:corn starch, thickeners: hydroxyprophyl methyl cellulose, carboxy methyl cellulose;
colours: carotenes.
Dietary food of special medical purposes intended for dietary treatment in phenylketonuria (PKU).
Nutritional value per 100 g of product:
Energy value in 100 g of product: 1537 kJ/ 362 kcal
Fat: 0,6 g
of which saturates: 0,2 g 
Carbohydrate: 88 g
of which sugars: 0,7 g
Fibre: 1,7 g
Protein: 0,3 g
of which phenylalanine: 9 mg
Salt: 0,425 g
Net weight: 200 g
Expiry date: 8 months
 Storage: cool and dry
Preparation:
Mix 2 teaspoonfuls /10 g/ of the substitute with 40 ml of water and beat until stiff. This is an amount corresponding to one egg. Then bake with fat a little longer than traditional scrambled eggs. This product can also be used as an egg substitute in making cookies and other dishes. When added to bread in small amounts, it improves the quality of the bread dough.

SEND to your friend