Low protein sliced white bread PKU 320g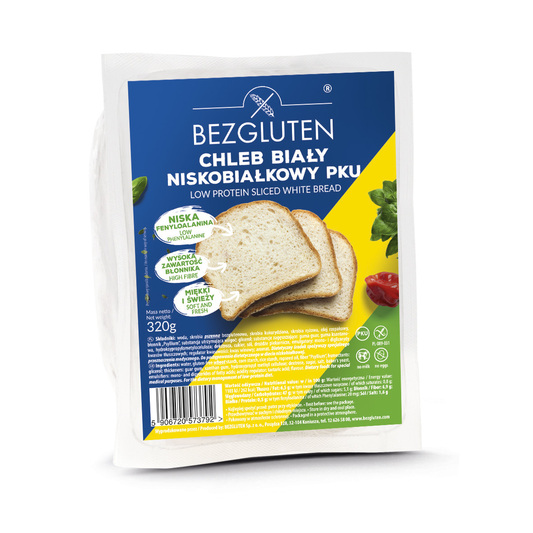 Ingredients: water, gluten free wheat starch, corn starch, rice starch, rapseed oil, fibre Psyllium, humectants: glicerol; thickeners: guar gum, xanthan gum, hydroxypropyl methyl cellulose; dextrose, sugar, salt, yeast, emulsifiers: mono- and digycerides of fatty acids; acidity regulator: tartaric acid; flavour.                             

Nutritional value per 100 g of product:
Energy value in 100 g of product: 1103 kJ/ 262 kcal
Fat: 6,5 g
of which saturates: 0,8 g    
Carbohydrate: 47 g                                                 
of which sugar: 5,1 g                                             
Fibre: 6,9 g  
Protein: 0,5 g
of which phenylalanin: 20 mg
Salt: 1,6 g



Net weight:  320 g
Expiry date:  3 months
Store in dry and cool place.

Packaged in a protective atmosphere.
SEND to your friend